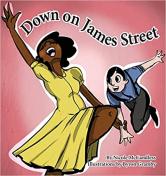 The moon lit the riverbank as George and Dorothy each made their way to the teen dance hall. It's 1935, and sons and daughters of black and white workers in Pittsburgh look forward to having some fun dancing the Lindy Hop, until the police come in and break up the dance…with their bully clubs.

The teens all scatter, but Dorothy has a plan to save the dance. Is George ready to join the fight? Or will he play it safe and just go home to his family?

Down on James Street is based on a real historical incident in 1930's Pittsburgh. Today, young and old can take inspiration from this wonderful story of courage and solidarity, with gorgeous illustrations by Byron Gramby that summon up the style and the cool of that long-gone era.