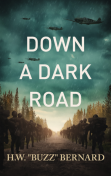 As the war in Europe draws to a close, young Army lieutenant Jim Thayer finds himself and his platoon on the point of the American advance into Austria. Jim and his men are no strangers to the horror of war. But what they find hidden in the forests of Western Austria is beyond anything they have yet experienced.

Battling remnants of the legendary Waffen SS, Germany's elite fighting force, Jim and his men come face to face with the cruel brutality of the Nazi regime. And bear witness to the fields of death left in its wake.

Determined to hunt down the architect of this atrocity, Jim dispatches an unofficial team of unlikely allies—an American bomber pilot, a German Luftwaffe fighter pilot, and a young Austrian woman.

The war may be ending. But for these strange comrades in arms, the final battle has only just begun...