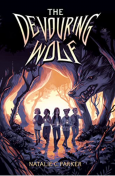 A queer tale about kid werewolves, big bad mistakes, and terrifying creatures, perfect for fans of Katherine Arden and R.L. Stine.

Little wolf, little wolf, here I come.

It's the eve of the first full moon of summer and twelve-year-old Riley Callahan is ready to turn into a wolf. Nothing can ruin her mood: not her little brother Milo's teasing, not Mama N's smoth-ering, and not even Mama C's absence from their pack's ceremony. But then the unthink-able happens—something that violates every rule of wolf magic—Riley and four other kids don't shift.

Riley is left with questions that even the pack leaders don't have answers to. And to make matters far worse, it appears something was awoken in the woods that same night.

The Devouring Wolf.

The elders tell the tale of the Devouring Wolf to scare young pups into obedience. It's a terrifying campfire story for fledging wolves, an old legend of a giant creature who consumes the magic inside young werewolves. But to Riley, the Devouring Wolf is more than lore: it's real and it's after her and her friends.
from Amazom.com
Book Details
Genre:
Adventure
Animals
Fantasy
Fiction