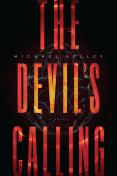 The Devil's Calling
Amazon Best Seller in Science Fiction & Fantasy Writing
#1 Amazon Bestseller in Cybernetics and Bestseller in Free Will & Determinism and Consciousness & Thought
Dive into the second entry in Mike Kelley's spellbinding trilogy, with freethinking literature professor Sean Byron McQueen returning for another high-stakes adventure.

It's been nine years since Sean Byron McQueen and quantum physics professor Emily Edens―aka M―discovered his murdered best friend's Theory of Everything. Now, Sean and M live a near-idyllic life on the campus of a college they've established for young women. M's teaching of the new paradigm-shifting theory of constant creation has made her a rock-star scientist.

When Sean's missing spiritual guide, Juno―believed to have been abducted by aliens that are targeting enlightened beings―sends him a telepathic message that his beloved and illuminated M is also in danger, Sean becomes hypervigilant in order to protect her.

Meanwhile, troubling AI-produced literature begins arriving in Sean's inbox, and the culprit may be an ex-CIA operative with the code name Guru who is intent on revenge. Sean presumes the Guru is also the mastermind behind Genesis, a super-intelligent Russian computer that will connect humans via a network of direct brain-to-brain links. Genesis is seen as the next evolutionary step by the wired-in nation (WiN), a group determined to create a New Society. Are the Guru and WiN after M, who is determined to ensure the ethical rollout of the dangerous "hive-mind" technology, or are the threats figments of Sean's vivid imagination―his superpower and curse?
Book Details
Genre:
Fantasy
Literary Collection
Science Fiction