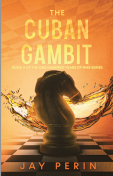 GREAT LEADERS CANNOT AFFORD TO BE GOOD MEN.

1986: Old scores settled, U.S. President Temple must consolidate control over a volatile nation and a changing world. A nuclear explosion in far-off Russia, political shifts in Western Europe, the AIDS virus... amid the disarray, three former allies refuse to cede command over the oil sector.

The Kingsleys, the Sheppards, and the Barronses have united under the woman Temple once thought of as his daughter. Neither she nor the decorated Navy SEAL who used to be her childhood sweetheart will concede. Then there's the American aristocrat she's rumored to be romancing secretly.

Temple cannot allow his affection for her to stop him from doing what he must. He will deploy a powerful weapon... someone who needs Lilah Kingsley to die.

From Alaskan tundra to Manhattan Island, from backroom deals to glittering red carpets, The Cuban Gambit continues the epic tale of unstoppable greed and hunger for power, a story of illicit affairs and dangerous obsessions.