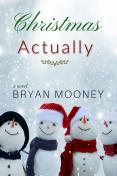 Holly Jamison loves Christmas and is on her way home to Vermont to celebrate the holidays with her family. It has been a while since she has been home to Pine Tree, Vermont, and is looking forward to her visit. But this will be a special holiday visit. Holly has decided to surprise her parents by finally accepting their long-standing job offer to run the family business. She has quit her job at the Baltimore Star Newspaper, sublet her apartment, packed all her belongings in her car, and is headed home to take the job. Little does she know that her mom has hired Travis Hamilton, Holly's "old friend," to manage the growing family business.
Old friends … old flames cause sparks to fly the moment they reunite, and soon, she must make the toughest decision about her future. As she travels to Vermont for Christmas, her colleagues from work are going in different directions and celebrating the holidays in their own way, including –
Josh – Josh, Holly's boss and the senior editor at the paper, lost his wife a few years prior. He has settled into his old job in Baltimore while contemplating relocation as he tries to convince his daughter to come home from London for the holidays. While dining at a local restaurant, he runs into a woman who also has lost her spouse. Now he must decide how to spend the holidays and his future. Stay or go?
"Frankie"– At the paper, Frankie is a successful but disgruntled columnist and podcaster who lets her disillusionment with Christmas traditions show through. She decides to go to a mountain cabin retreat for the holidays but soon discovers what Christmas is all about when she calls her father and stepmother.
Diego– Diego is one of Frankie's converts in the office, and she convinces him not to go home to California for the holidays but instead to spend the holidays at an "all-inclusive" Mexican resort. As it turns out, the "all-inclusive" retreat is far from "all-inclusive." His holiday retreat slowly turns into something else as he begins to regret his actions. He plans to rectify it and further his dream of becoming an investigative reporter for the paper.
"Maddie" – Maddie, a recent college graduate, is the newest and youngest office team member and is now assigned to sales and marketing. Josh has tasked her to cover the office for the team while the rest of the staff is gone for the holidays – and to follow up on all her missed phone messages and emails as if her job depends on it… which it does. As she follows up, she discovers all the things she has been missing, old friends, job possibilities, missed sales opportunities, and of course… Joe! They had met months before, but Joe had lost her cell phone number and called and left messages at her office, trying to make plans for lunch. She begins her sales follow-ups and discovers she likes doing it and can't wait to talk to Josh when he returns from the holidays.
"Jakob"– Jakob is the quiet, reserved one in the office. He is also "socially awkward" and grew up never celebrating Christmas or any other holiday or birthdays. He
continues the practice as he grows older, and it isn't until he meets his neighbor Maria and is invited to her place for dinner that he reaches out for help. He phones his best and only friend Holly in Vermont for advice. "Shave off the beard, get a haircut, get rid of all the black clothes, and bring her flowers or a bottle of wine for your dinner," she tells him. Later that night, after dinner, to reciprocate, Jakob invites Maria and her eight-year-old son to his apartment for dinner on Christmas day. Suddenly he's terrified. What was I thinking? What do I do? What do I buy for Christmas? Help! Jakob again phones Holly for advice. She tells him, "You need plates. Bowls. Silverware. Glasses. Christmas decorations. A Christmas tree. Ornaments. Lights. Presents. Good luck and Merry Christmas!" After following her directions, Christmas is a success as he, Maria, and her son all go out together to celebrate Christmas!
Christmas Actually is available worldwide in eBook, paperback, and hardback versions wherever fine books are sold, including Amazon, Barnes & Noble, Smashwords, Kobo, iTunes, Google Play, and other fine retailers worldwide.