This Book is Not Yet Rated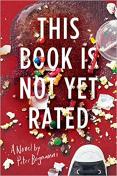 This Book is Not Yet Rated
by Peter Bognanni
Movies have always helped Ethan Ashby make sense of the world. So when developers swoop in and say the classic Green Street Cinema is going to be destroyed to make room for luxury condos, Ethan is ready for battle. And so a motley crew of cinema employees comes together to save the place they love:

There's Sweet Lou, the elderly organist with a penchant for not-so-sweet language; Anjo, the too-cool projectionist; Griffin and Lucas who work concessions, if they work at all; and Ethan, their manager (who can barely manage his own life). Still, it's going to take a movie miracle for the Green Street to have a happy ending. And when Raina Allen, Ethan's oldest friend (and possible soul mate?), comes back to town after working in Hollywood--cue lights and music--it seems that miracle may have been delivered. But life and love aren't always like in the movies.

This Book is Not Yet Rated is about growing up, letting go, and realizing love hides in plain view--in the places that shape us, the people who raise us, the first loves who leave us, and the lives that fade in and fade out all around us.