The Bible Adventure Book of Scavenger Hunts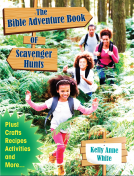 The Bible Adventure Book of Scavenger Hunts
The Bible Adventure Book of Scavenger Hunts is jam-packed with loads of fun activities created around scripture verses all quoted from the New International Version (NIV). The book features not only scavenger hunts, but also craft projects, easy recipes, music playlists, and other elements, with each chapter highlighting a specific Bible theme.

The scavenger hunts in this book are terrific for homeschooling programs, summer camps, youth groups, campground coordinators, family gatherings, and even birthday parties. Most of the activities can be completed with any number of players, and leaders can organize for individuals, pairs, or teams accordingly. Plus, there's something for kids of all ages!

All of the scavenger activities contain other elements, such as fill-in-the-blanks, science projects, and color-by-symbols that can be completed independent of the hunt. Most also include easy-to-photocopy handouts. The scavenger hunts can be fine-tuned to fit into any schedule or landscape. Detailed instructions and clues are provided. There's only one rule, and it applies to all of the book's activities: Have fun with it!
Book Details
Genre:
Adventure
Educational
Environment
Faith-based