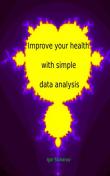 LitPick Review

WATCH THE LITPICK BOOK BRIEF VIDEO!

Improve Your Health with Simple Data Analysis by Igor Stukanov intrigued my curiosity. The author provided evidence of a simple way of the use of pharmaceutical medication. It is a fact that a doctor may prescribe drugs that can have dangerous side effects, be addictive, or even be lethal. Who is to blame for the incorrect dosages (overdose) and adverse side effects from drugs? The spotlight on clinical trials' disclosure in the books is worrisome. The book addresses the fallacy that all people respond in the same way to medical treatment. A prescribed drug user masters how to optimize and tune their medication. The best interval of taking drugs in the right dosages aided by a physician is effective. The author reveals the power of our body's biological rhythm in sync with the motions of mother Earth. The axis around the Sun, as well as the Moon around the Earth, are mind-boggling. You test your rhythms using blood pressure, molecules of the body and temperature. The weather patterns thus dictate if you take your medication once, twice or thrice a day. All this and more is found in Improve Your Health with Simple Data Analysis.
Opinion:
The personalized approach to prescribed medication uses statistics, scripts, python, and standard deviation. This is a win for readers with a knack for figures like me. Igor Stukanov uses data and its analysis to solve the scourge of prescribed drugs. Imagine learning to study your unique body and how it responds to medicine at different times of the day? Do you ever calculate the interval of taking your prescribed drug? Prescribed drug users with preexisting conditions are the primary audience of this book. Caregivers and loving family members will find a great resource in this read. I found the book detailed, yet complex with analytics. It is a thought-provoking but practical manual on taking prescriptions better. It is a must-have guide for anyone who takes prescribed medicine. I give Igor Stukanov's book Improve Your Health with Simple Data Analysis a 4-star rating.
KEYWORDS
ACTIVITIES, HOBBIES, PLACES, AND EVENTS: