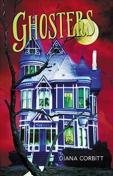 LitPick Review

In Diana Corbitt's Ghosters, Theresa Martinez is really going through it. Her mother just passed away, and her writer dad is having major writer's block, so to save money, they find themselves in her grandparents' old home. But why does everyone keep saying her house is haunted? Her father certainly doesn't think so; she must be imagining things. He wants nothing to do with her quest for paranormal activity. With the help of her new British best friend from school, Theresa and her little brother Joey are on the hunt for answers to family secrets as well as for ghosts. Could the spirits be trying to tell them something? Hopefully, Theresa will get some answers and a shot at the $200,000 prize money for best ghost recording from her favorite show, Ghosters.
Opinion:
Whether you believe in ghosts or not, Ghosters proves to be a heartwarming read. I liked how Theresa not only investigates the mysteries of the mansion but also investigates the mystery behind why her father seems closer to Joey than her. When your parent won't meet you halfway, sometimes you have to take that step yourself. I also think the author represents the neurodiverse community really well with Joey, the little brother. She gives an inside look into the little idiosyncrasies of daily life on the spectrum, showing not just the challenges, but the amazing strengths that come with being neurodiverse. This book is perfect for anyone who loves YA and suspense.
Explain your content rating:
There is talk of family members passing away, and the main character does grieve. It is more sad than triggering, but it should still be noted because it made my heart hurt.
KEYWORDS
CHARACTERISTICS AND EMOTIONS: