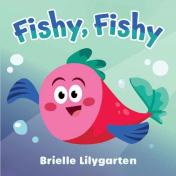 LitPick Review

Fishy, Fishy is a lovely children's picture book that lets kids be a part of Fishy's day. The book lets little ones tag along with Fishy as he finds food, plays with friends, sings, and basically goes on a mini adventure in the sea. The book is happy, upbeat, and perfect for little ones to engage in the life of a fish. It is a simple story, but it's written in rhyme scheme and has beautiful illustrations to keep little kids attention. This is a short read, but a good read.
Opinion:
I personally love this book. There's repetition in the book for little kids to have something to look forward to and the rhythm flows smoothly with the author's rhyme scheme. The illustrations are eye catching, yet simple and perfect for keeping little eyes engaged and interested in the story. If you have a baby or toddler just getting into books, I would highly recommend Fishy, Fishy. This book shows that simple stories can be great if written well.
Explain your content rating:
Nothing was offensive in this picture book.
KEYWORDS
CHARACTERISTICS AND EMOTIONS: