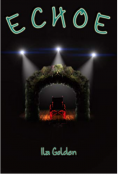 Age Range -
Mature Young Adult
LitPick Review

The story plays out following a young Neeth Nymph that goes by the name of Echoe Sweetcharm. Echoe, with a passion for acting and writing, is hindered by her grandpatch. She has telekinetic abilities while she continues to pursue her dreams, though her efforts come up short. After her grandpatch Allonzo's passing, she tries once more auditioning for a role. More unfortunate events come following her after that, and as each second follows, greater accidents hover over her. She sets on her journey with the question: "why is this happening?"
Opinion:
The book is set in a fantastical, fairy-tale world; however, it's not like most books I've read, making it enjoyable. This book is interesting, keeps you on your toes, and has you asking the question: did her grandpatch actually do this to her? For every chapter I read comes a greater mystery, and it truly is well-written. This book is among the few that I've read that had me racing to read all its chapters and solve the puzzle that it is. I enjoyed the story very much and also enjoyed getting to know the different characters.
Let me praise how this book is fantasy, yet it's so relatable and natural covering real life topics. And finishing the book felt like a reward on its own.
I recommend this to everyone. Even if you do not like fantasy books, you might add this to your favorites.
Explain your content rating:
there are a few mature scenes.
KEYWORDS