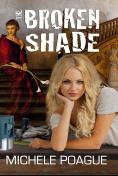 Age Range -
Mature Young Adult
Genre -
Historical Fiction
LitPick Review

In 1986, Freja O'Connell moves home to Denver from Las Vegas after her current relationship ends—the latest in a long line of drunken, cheating men. Determined to start over, Freja buys from her father a rundown home in a bad neighborhood and decides to fix it up on her own using money earned as a waitress at Shotgun Willie's Gentleman's Cabaret. Aside from meeting a crowd of colorful characters at work, she also befriends (and lusts after) the cashier at the local home improvement store, which she frequents as part of her home remodeling project. On top of that, she also finds that the house comes with a roommate—the ghost of a woman who died there over sixty years ago. Juggling between her job, her home repairs, frequent break-ins, the series of men who pursue her, and solving the mystery of her new ghost friend, Freja has her hands full. Full of twists and turns and myriad nostalgic '80s references, The Broken Shade is part romance novel, part ghost story, and part history lesson.
Opinion:
The author gracefully balances a number of seemingly disconnected story lines and side plots in The Broken Shade. Between Freja's family life, personal life, professional scene, and unique hobbies, she's a well-rounded character who, despite some shallowness and tendencies to make wrong decisions when it comes to men, is admirable in her drive and thoughtfulness. Such a packed plot leaves little room for the narrative to drag, making this story a real page turner. Homeowners will appreciate the detailed process of Freja's remodeling project, which comes with its many frustrating and sometimes comical setbacks. The ghost story will appeal to mystery lovers and history buffs. Between all of that is the voice of reason the reader gets to play as Freja encounters one man after another, knowing full well who she should end up with but enjoying the ride as men come and go over the years. Overall, The Broken Shade is a high-energy, tightly packed story with a likable protagonist who has a unique and compelling story to tell. I hope to see this novel adapted for the big screen one day.
Explain your content rating:
This book contains language, violence, sexual situations, and talk of drug use.
KEYWORDS
CHARACTERISTICS AND EMOTIONS:
ACTIVITIES, HOBBIES, PLACES, AND EVENTS: