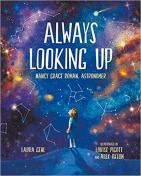 LitPick Review

Age at time of review - 33
Reviewer's Location -
Corning,
NY,
United States
View JT's profile
Nancy Grace wanted nothing more than to study astronomy; even when her peers thought otherwise. She was persistent in studying space at a time when only men were considered scientists. With perseverance and knowledge, she became a chief of astronomy at NASA and led a group of scientists to build the Hubble Space Telescope. Her accomplishments earned her the title "Mother of Hubble" and her desire to educate young people about space exploration continued through her old age. Read and enjoy the story, Always Looking Up by Laura Gehl and find out how a woman scientist had an asteroid named after her.
Opinion:
Always Looking Up by Laura Gehl is a picture-perfect introduction to Nancy Grace Roman, a renowned astronomer. It is the story of Nancy Grace's life from childhood through adulthood, and Gehl is dynamic in describing how a young girl who is impassioned with the universe can make all the difference in the world.
Explain your content rating:
Always Looking Up is a picture book and an introductory biography of a famous scientist.
KEYWORDS