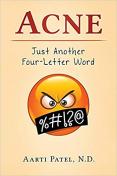 LitPick Review

Acne is something we all deal with from time to time, and it's annoying but eventually goes away. Yet for people with chronic acne, it's with us every step of the way, telling us what to do, how to do it, and destroying self-confidence. How many times have you not done something because of a pimple? Acne: Just Another Four-Letter Word acknowledges that and comes with a detailed list on not how to vanquish acne but to take control of your relationship with acne, and to realize that your worth is not defined by a blemish on your face.
Opinion:
Reading this book felt like the author, Aarti Patel, was screaming at me to stop letting acne control my life. She drew from the experience of chronic acne as well the kind that never goes away. It was easy to relate to this book. Not having dairy, or gluten, or sugar. Not trying out that new makeup or spending so much money on creams and serums that never work. All for acne. This is a great guide on how to take back your life.
One thing that really stood out to me was Aarti Patel's words on anger. Anger is often something looked down on, but this author writes that anger is essential to express your anger to be mad at acne.
Stylistically, the book felt repetitive, phrase after phrase, again and again, making it hard to read. Otherwise, I would highly recommend this book to anyone suffering from acne; it's a great book on not letting yourself be overcome by it.