STRAY TO TENT A FOREVER HOME by Gary Clark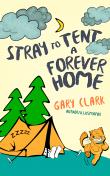 Five-Star Review Written by Jonny
WATCH THIS LITPICK YOUTUBE BOOK REVIEW VIDEO!
Summary:
Gary Clark's Stray to Tent A Forever Home is a picture book that is based on a true story about a stray cat named BabyBoy who sees all of the different places homeless people live while he's living alone on his own. The book is easy to understand with fantastic brightly-colored illustrations that show how hard life is for the homeless. Readers see that homelessness can happen to any person or animal in any community and that finding food and shelter is a constant struggle for them. BabyBoy sees that the world can be a dangerous place, but then he unexpectedly finds a homeless man looking for the same things he is.
Opinion:

The story emphasizes that when the homeless finally find somewhere they feel safe and can clean themselves up, it feels like a special blessing and luxury to them. It also makes a strong point that the homeless, people and animals, have needs for love and companionship just like everyone else does. Since the end of the story has a 2 page list of resources where readers can find more information about the issue, I think the purpose of the book is to increase awareness about homelessness and encourage people to think about the role they could play in helping to solve this serious social problem.
Homelessness is a topic that makes many people feel uncomfortable, so I think books like Stray to Tent A Forever Home are important and should be written. The idea that so many people and animals in the world are homeless is heart-wrenching, but it is a social issue that will continue to be a problem until people understand it better and get involved in organizations that help improve living situations for the homeless. This is why I think Mr. Clark's book would be good for schools or churches to share with school-age children before they participate in a community service or mission project. In a way that's not scary, the book's colorful artwork shows how homeless are forced to live day to day, so it's a perfect way to start discussions about what homelessness is and how it happens to people and animals. It also sends a powerful message about how no one wants to be homeless and that they can even be people of faith. Overall, the book is a wake-up call for us to be grateful for the blessed lives we live every day.
Title: STRAY TO TENT A FOREVER HOME
ISBN: 9780692089385
PUB DATE: November 01, 2018
HARDCOVER, CASEWRAP, LIBRARY BOUND
TRIM SIZE: 8.5x10.875
PAGES: 64
JUVENILE NONFICTION
LIBRARY OF CONGRESS INDEXED
KEYWORDS: ANIMALS,NON FICTION, FAITH-FAITH BASED,HOMELESS PERSONS,JUVENILE LITERATURE,HUMAN-ANIMAL RELATIONSHIPS,FERAL CATS,
NATIONWIDE DISTRIBUTION VIA: http://www.straytotentaforeverhome.com