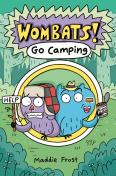 Albert and Pickles are an unlikely pair of besties and they're ready to explore the great outdoors for the first time. Albert is ready to camp the old-fashioned way while Pickles thinks he's going to a five-star resort under the stars. Pickles is going to have to find a way to cope in the wilderness for one whole night, but luckily, Albert is there to assist in pitching a tent, cooking by the fire, and embracing the great outdoors.

While navigating their way through the rest of this camping trip, Albert and Pickles run into their old friend, Platters, who is in search of the Woolly Moon Beast—a legendary ferocious creature. Together, they must reunite a lost baby koala with its mama while this potentially dangerous predator looms large in the woods.

WOMBATS! is a brand new graphic novel series that is perfect for fans of Jack books, Baloney and Friends and Narwhal and Jelly.