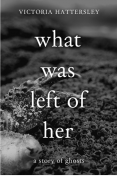 When two sisters inherit their aunt's house on the Norfolk coast, they are forced to confront the past. Thrown together on an eroding clifftop, increasingly haunted by memories of their aunt and disturbed cousin, they try to make sense of the present and its relation to their family history.

Why did their aunt die? What does their neighbour want with them, or the house? And why did their late cousin seem to hate them so much it almost reaches beyond death?

What Was Left of Her is a chilling modern gothic novel, perfect for fans of Susan Hill and Shirley Jackson.