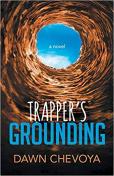 A middle school boy sets in motion something big when he buries a tesserapod in the woods of northern Michigan, which leads him to find unexpected answers in his search for connection and truth.
Brennon Trapper isn't sure who he really is since there are two Brennons ticking inside his head. At school, he does whatever he must do to be liked, but at home inside his trailer, he crawls back inside himself, wishing he could disappear. His father likely wouldn't even notice if he did.
Then, something too incredible to believe happens on his family's wooded property, and Brennon and his younger brother vow to keep it from their parents rather than risk ridicule again. Seriously, who would believe that a beaver gave them a tesserapod that could develop into a "lodge of sorts" in 200 days if grounded correctly? But when an epic blizzard destroys the roof of their trailer, Brennon finally comes clean about the woods and what he thinks might be a place of shelter. His father's anger and disbelief jolt Brennon to overcome his fear. In the morning, Brennon is gone―he believes he can make it to the "lodge of sorts." As Brennon strives to make it to the "lodge of sorts," reality and fantasy mingle in this fantastical tale of a boy just searching for connection…and finding it in unexpected places.
Book Details
Genre:
Adventure
Juvenile Fiction