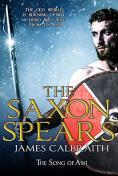 Pirates roam the seas, bandits threaten the highways, and barbarian refugees land at Britannia's shores, uninvited. The rich profit from the chaos, while the poor suffer. A new Dark Age is approaching—but all is not lost.

Ash is a Seaborn, a Saxon child found on the beach with nothing but a precious stone at his neck and the memory of a distant war from which his people have fled. Raised on the estate of a Briton nobleman, who is trained in warfare and ancient knowledge, Ash soon becomes embroiled in the machinations and intrigues at the court of Wortigern, the Dux of Londinium, a struggle that is about to determine the future of all Britannia.

A child of Saxon blood, an heir to Roman family, Ash's destiny is like no other: to join the two races and forge a new world from the ruins of the old.

The Saxon Spears is the first volume of The Song of Ash, a fast-paced, gripping historical fiction saga, perfect for fans of Bernard Cornwell's The Last Kingdom series as well as works by authors Simon Scarrow or Conn Iggulden.