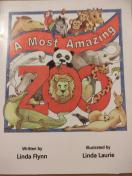 A Most Amazing Zoo is a picture book for 3 – 7 year olds, full of fun animal facts.
Find out about the chaos that arises when the Queen visits Zedgate Zoo. Each of the animals is keen to boast about themselves and they certainly make an impression.
Enjoy the humour as you follow the Queen around the zoo and learn lots of information on the way.
A lively text is supported by humorous, colourful pictures which can be enjoyed by adults and children alike.