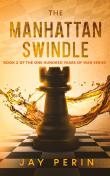 A SINGLE LIE COULD WIN THE WAR WITHOUT SHEDDING A DROP OF BLOOD.
The tumultuous 'seventies... communists on the march, cocaine on the streets, the ayatollah in Iran... Jared Sanders, the criminal oilman, is inches away from controlling the White House. His old nemesis, Senator Temple, stands in the way. This time, Temple is not alone.
The heirs of the three oldest clans in the oil business join forces against Sanders—an aspiring lawyer with her eye on a supreme court seat, a Navy SEAL with a target on his back, and a dashing blueblood from New York City. Together, they have the power to defeat the enemy without firing a single shot. Except, the lies which thrust them into the alliance, the family secrets, refuse to stay buried.

Three dynasties, a ruthless adversary, a long conspiracy... from the corridors of power to the bedrooms of the wealthy, from Lebanese towns to Argentine oilfields, The Manhattan Swindle continues the riveting saga of treachery, heartbreak, vengeance, and blood feuds.
Book Details
Genre:
Fiction
Historical Fiction
Series