Lonely Reader Looking For Love (Cupid's Daughter #1)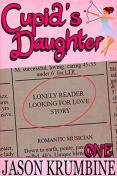 Lonely Reader Looking For Love (Cupid's Daughter #1)
Ross Richards and Sally Fields are each other's True Love, they just don't know it!

Emma Valentine is just your average ordinary twenty-four year old Manhattanite, living in an apartment that makes a shoebox look spacious, barely making a living working as the cutest barista at the Grind House and, oh yeah, she's also Cupid's Daughter.

That's right. Cupid. As in the guy responsible for helping everyone find their True Love.
Which means Ross and Sally are a match made in Emma's hands, if she could only actually get them in the same room together.
Book Details
Genre:
Chick Lit
Fantasy
Romance
Series
Short Story