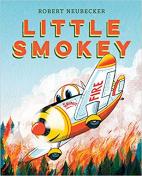 Little Smokey
For a brave firefighting airplane, the sky's the limit! Kids who loved The Little Airplane, The Little Engine That Could, and Where Do Jet Planes Sleep at Night? will cheer for Little Smokey.

When forest fires blaze, the airplanes at Nif-C spring into action! Some swoop low to spray water on the flames. Others drop bright red fire retardant. Little Smokey hasn't quite figured out her job yet, but she wants to help. . . . And when a fire like no other flares up--a fire that none of the other planes can control--it's Smokey's turn to show what she's made of.

With bold, eye-catching illustrations by Robert Neubecker, Little Smokey is a tale of courage and teamwork in the face of disaster.