KIDS GET RICH Teaching Children the Secrets to Wealth and Success Workbook for Kids Ages 12-17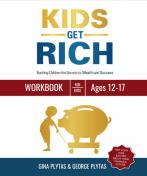 KIDS GET RICH Teaching Children the Secrets to Wealth and Success Workbook for Kids Ages 12-17
One of the keys to excelling in life is being financially literate. It is important to understand how money works and to develop powerful habits from a young age. Being smart with money is super important, and down the road, it helps us live our dreams.

Financial literacy and planning are more important than ever, and much of what we need to know to be successful is never taught in school. Children often grow up without a sound understanding of their own finances, leaving them unprepared as they enter adulthood. But there is another way. You can teach them.

This workbook is a companion guide to the Kids Get Rich book. It focuses on teaching kids to develop a mindset of success, personal resiliency and to implement common sense saving strategies to build personal wealth. Using easy to follow principles and age-specific activities, it covers both the theory and practice of building financial literacy, from the first-time children experience money to when they venture off as young adults. It helps teach kids the smart way to save, invest, and think about money to give them a head start to financial success.
| | |
| --- | --- |
| | Support small bookstores by purchasing this book here through bookshop.org - thank you! |