ISHA AND THE HEDGEROW-FOLK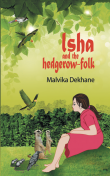 ISHA AND THE HEDGEROW-FOLK
This is the story of a girl Isha aged 11, and the hedgerow folks - the little free beings living in and around the hedgerows. The story having a slight touch of fantasy, revolves around their problems and how they solve them together. It also stresses importance of family, family values and love for Nature.
Isha's family comprises her parents Mihir and Rajeshwari, baby brother Neil and granny Indi. While returning from a vacation their car meets with an accident. It claims her mother. A foul play is suspected. Several mishaps follow. These include Indi slipping into deep sleep; an attempt on Isha's life; kidnapping of Neil, to mention a few. Who is behind all this? The situation worsens when the villains want to oust the family from their house. The villains also want to remove the hedgerow and make the hedgerow folks homeless. It is an Act or Perish situation. How do Isha & the hedgerow folks deal with the grim situation.
The story highlights our resilience. It encourages unity. It also stresses on hope and healing after a tragedy. It highlights the role of seemingly insignificant elements in our environment and gives the message Save the Habitats.
Book Details
Genre:
Adventure
Animals
Environment
Fiction
Inspirational