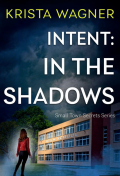 When a pastor's daughter is pursued by a stalker, she must hold tightly to her faith as the menacing presence closes in.

Raylee, a pastor's daughter, just wants to get through the last two years of high school. But it's not easy when you're an outsider. Or when the most popular girl in school's goal is to make your life miserable.

Or when someone starts to STALK you. . .

When classmate Paul befriends Raylee, she is determined to ignore Crystal's ploys. And when new student Billy arrives, Raylee finds herself drawn to his mysterious side. But Crystal is determined too, and she will do whatever it takes to keep him from Raylee and to ensure that the rest of Raylee's high school years remain angst-ridden.

Raylee must cling to her FAITH in God more than ever, because someone lurks in the shadows, watching her, leaving scary clues, someone who wants to set her on edge. But why? Is it Crystal and her clique, or worse, someone she trusts?

Exclusive Edition: Over 60 pages of deleted scenes!

Book #1 is a clean mystery suspense appropriate for young adult and up.