The Eyes and the Impossible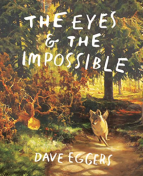 The Eyes and the Impossible
From New York Times bestselling and award-winning author Dave Eggers (The Every) and Caldecott Honor illustrator Shawn Harris (Her Right Foot) comes THE EYES AND THE IMPOSSIBLE (Alfred A. Knopf Books for Young Readers | Ages 8 and up | On sale May 9, 2023), an endearing and beautifully illustrated story for readers of all ages about a dog who becomes a hero to a park full of animals.
The novel is narrated by Johannes, a witty and thoughtful canine who's dog-centric view on life and humankind will strike a chord with adults and children alike. The voice of Johannes first appeared in a short story Eggers wrote for an anthology 20 years ago, and it was something he always hoped to revisit. Said Eggers: "I don't know if I've ever felt so free as a writer as when I write from his point of view. And there's always been something all-ages about his voice, something that appealed to young readers and adult readers, too, so it made sense to give him a story that might have appeal for all generations."
But the gorgeous prose is not the only thing that sets this novel apart from the pack. Harris masterfully bring Eggers's words to life with bright and vivid illustrations that meticulously layer images of Johannes and other details from the story onto classical landscapes by Dutch artists of the 1800s—an ode to the museum and art in the novel.
Lyrical, soulful, and full of wit and passion, THE EYES & THE IMPOSSIBLE is a timeless story about friendship, beauty, liberation, and running very, very fast. Fans of A Wolf Called Wander, Scary Stories for Young Foxes, Pax, the Endling series, and classic animal fantasies like Stuart Little will find a new favorite in Eggers and Harris's latest masterpiece.
Book Details
Genre:
Adventure
Animals
Fantasy