The Dragondain-Book Two-A Moon Realm Novel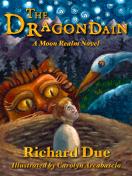 The Dragondain-Book Two-A Moon Realm Novel
It's the middle of the night, you need to send your brother to the Moon Realm, and he won't wake up. So you improvise. . . .

When a confused Jasper awakes, he's convinced he's dreaming. But by the time he meets Greydor, Jasper understands that this is no dream. In fact, persuading the King of the Rinn to work with the men of Dain to defeat their common enemy is a nightmare. Then there's the other side of the coin: convincing Tavin and Dubb that saddling a Rinn isn't certain death. ("It'll be fun!") And perhaps even a greater worry: can he make friends with Dubb's daughter Darce before she punches his lights out?

Lily has problems, too. There's a little mousie scratching in her closet. Or at least, it sounds like a little mousie. Oh, and her second confrontation with Curse, and trying to form her first peerin. (Don't you have to be from Dain to do that?) And where's Ebb?

One thing's for sure: now that Lily and Jasper have entered the Moon Realm, nothing can ever be the same again.

Illustrated by Carolyn Arcabascio. Volume Two of the The Moon Realm Series.
Book Details
Genre:
Adventure
Fantasy
Juvenile Fiction
Series
From the Publisher
Reviews for The Dragondain:
From Jimzle (Maryland). 5 stars. I cannot say enough how much I enjoyed this book. Reading this series has been like falling down the rabbit hole. When reading I was so drawn into the Moon Realm everything around me fades to nothing and I feel like I am right there with Lily and/or Jasper sharing their adventures. My highest compliment for a sequel is that it does not feel like one and Dragondain does not disappoint. What I like best about a series is the feeling of continuity and Dragondain builds onto the amazing story and world Due has created. The saddest part about reading it so quickly is having to wait for the next one! I'm dying here!!!!
From Christine (United Kingdom). 5 stars. This is another great book with well rounded characters and fabulous imagery. The story moves on from where we left it in the Moon Coin and we get to know Jasper better. Jasper is a likeable, capable and bright teenage boy, who plans and considers the consequences of his actions far more than his younger sister Lily. Lily, although just as bright and possibly brighter, appears to be more reckless and devious in this book.
A lot happens, and it is incredible how much influence 2 children from earth (or maybe not from earth) have in the moon realm. I suspect that Uncle Ebb has planned his disappearance to provide the children with this adventure and to progress his plans to unite people and creatures of the moons; a destiny or prophesy perhaps from a world filled with magic. Again, the children's parents do not act in a way we expect, something definitely fishy going on there, and what's with the bonsai? Who are the two women camped out in Uncle Ebbs mansion?
Dradondain was difficult to rate for me, I loved it and can't wait until next year for the third book, but it felt like "an instalment" rather than a book in it's own right. For this reason, I would have rated it 4.5 stars, but 5 it is because 4 is overly critical / harsh.
My daughter is the right age (9/10) for this book and loved it, as she did the Moon Coin, but we're in the UK and few children have their own e-readers, therefore I urge the publisher to make the paperback versions more easily available outside of the US. Christmas is coming up and these books are fabulous presents, but parents will not be willing to pay large carriage charges.
From S.S. Tamberrino (Florida). 5 stars. If you've already read The Moon Coin, the first in author Richard Due's Moon Realm fantasy series, get ready for a wild ride! Book Two, The Dragondain, will have you gasping, cheering, and falling in love with the characters all over again. Due's rich descriptive prose and fast-paced dialogue make for a truly exciting read. There were so many 'goosebumps' moments I literally could not put the book down. I can't wait for Book Three!