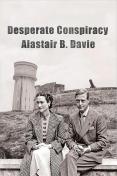 In the thick of World War II, Dr Roger Lawson rescues a wounded pilot from a damaged aircraft that crashes on landing after a raid on Germany. As a result he is badly burnt and is left permanently scarred and crippled. However, he is determined to continue to serve his country despite his new disability.
Helen Masters is a cool headed nurse, doing all she can to help those affected by the terrifying Blitz that rains down upon Great Britain. When she is mistakenly accused of being a German spy, she is forced to take refuge in the Bahamas and help the cause from afar.
Roger is offered a new role in the Bahamas as a doctor at the RAF hospital - a place seemingly undamaged by the war where bomber crews are trained. However, this British colony is a hotbed of Nazi intrigue as a plan is laid to kidnap the Duke of Windsor, who is serving as Governor to the Bahamas, so the British would sue for peace. Recruited by SIS, Roger must act skilfully to deter disaster. With Helen's help, he must ensure that the Duke remains safe and the British war effort is undamaged by this desperate conspiracy.