Cloudy with a Chance of Witchcraft (Grimm Cove)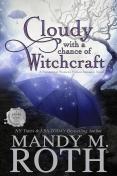 Cloudy with a Chance of Witchcraft (Grimm Cove)
A Paranormal Women's Fiction Romance Novel

When it rains, it pours... On the eve of my fortieth birthday, Fate has given me a second chance at the happiness I once knew in the odd Southern town of Grimm Cove. But only if I can come to terms with some rather eye-opening revelations. Supernaturals are a real thing. I'm a witch. My high school sweetheart, who happens to be the Chief of Police in Grimm Cove, is my fated mate and a wolf-shifter. Ghosts exist and can be very nosy and meddlesome. Someone is murdering witches left and right. And last but not least, my ex-husband's barely legal arm candy is taking fatal attraction to new levels of Hell.
I'm no shrinking violet, and with the help of my best friends, I'm going to live life on my terms--come Hell, high water, or magikal mishaps.
Romance book contains: kick-butt women who are considered middle-aged at forty but who don't let themselves be defined by a number, alpha males, paranormal elements (witches, shifters, ghosts, etc), some mildly strong language (nothing too earth-shattering), heated scenes but they aren't 50 shades of OMG or anything, and a nice heaping helping of a second chance at a first love.Don't miss out on the next book in the Grimm Cove Series World, Hexing with a Chance of Tornadoes!
Book Details
Genre:
Fiction
Paranormal
Romance