Book 1: Travels with Zozo…and the Bears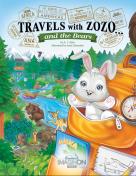 Book 1: Travels with Zozo…and the Bears
Imagine if our pets could travel the world with us.
What adventures would they have? What trouble would they get into? What friends would they make?
In the Travels with Zozo... series of illustrated children's books for ages 4-8 years old, a fun-loving family of four brings their pet bunny, Zozo, on their trips around the world, and Zozo's escapades are bound to amaze, amuse, and inspire you.
Author A.J. Atlas' extensive travel experiences in nearly fifty countries and throughout all fifty U.S. states provide firsthand insight into the settings for the books. Award-winning illustrator Anne Zimanski uses bright colors and expert digital artistry to turn the real-life places into beautifully colorful, imaginative worlds for Zozo and readers to explore. She adds an abundance of charm and heart to the culturally-diverse characters whom Zozo meets, and she packs Zozo's sweet, little, furry face full of emotion. Then, together, Atlas and Zimanski keep the pages filled with goofy gags and funny antics. So many, in fact, that rereading the stories is sure to surprise you with something new and keep you laughing.
The first book in the exciting, new series, Travels with Zozo...and the Bears, takes readers to a coastal island in Alaska, a place with more brown bears than the whole lower 48 states combined. Zozo and her human family are on vacation there to experience all that the island has to offer and to see what fun things the bears are up to.
After exploring the Alaskan wilderness by floatplane and sea kayak, a hike takes them inland to a treehouse hideaway. From high above the rainforest path, they see brown bears in action—catching fish in the river, enjoying wild blueberries, and having all kinds of fun
Along the way, Zozo and her family mingle with whimsically illustrated locals— goofy, golfing martens, tic-tac-toe-playing sea otters, a bear cleverly disguised in a hollow tree trunk stealing a sandwich, red-breasted sapsuckers, Stellar's jays, orcas, porcupines, and many others.
On their return journey, imagination and creative storytelling take hold as Zozo befriends a young brown bear and helps reunite him with his family. Zozo's new- found friendship grows while playing hide-and-go-seek, swimming in a river, and learning about hibernation.
Bring your imagination and let Zozo be your guide to a world of amazing places!
Book Details
Genre:
Juvenile Fiction
Picture book