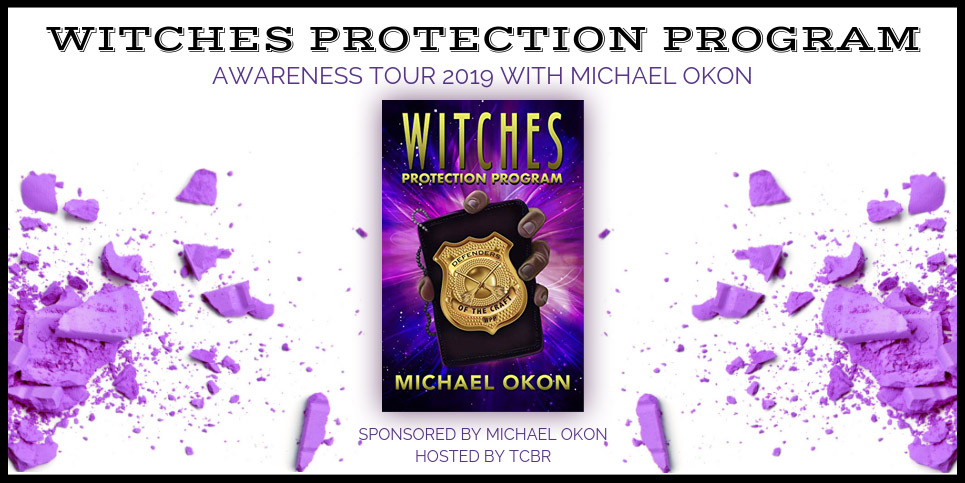 We have partnered with The Children's Book Review and Michael Okon to bring you a special author interview with Michael Okon, author of many books, including Witches Protection Program.
***Michael, were you familiar with witch history before writing this book?
Not at all, but I always loved watching movies about Witches. They truly are a fascinating character that can be told in any fashion you want.
***What kind of research did you have to do to write Witches Protection Program?
Spent a lot of time with my best friend…Google. I also watched countless videos on YouTube on witches and their history.
***What inspired you to write this book?
It's sort of an embarrassing story. I was in my bathroom and glanced at my wife's magazine collection. There was a caption that I thought said Witches Protection Program and I thought to myself – that is an awesome book idea. I realized the caption said Wetless Protection Program, but I didn't care. I started writing that night.
***We know you love films. Is there one that has been particularly meaningful to you?
Absolutely. Hellboy and Men in Black—two secret government organizations that protect the earth from evil monsters/aliens. I took the same premise and made it with witches.
***What is one piece of writing advice you've been given that has been most helpful?
Don't write what Hollywood wants. Write what you want, and Hollywood will come calling. And that's exactly what happened. The screenplay for Witches is being shopped around to all the studios now.
Thanks for joining us, Michael. We hope to see Witches Protection Program on the big screen.
OFFICIAL LINKS
FACEBOOK: http://facebook.com/iammichaelokon
TWITTER: http://twitter.com/IAmMichaelOkon
INSTAGRAM: http://instagram.com/iammichaelokon
SNAPCHAT: http://snapchat.com/add/iammichaelokon
MICHAELOKON.COM: http://michaelokon.com/
ABOUT THE BOOK
Witches Protection Program
Written by Michael Okon
Publisher's Synopsis: Wes Rockville, a disgraced law-enforcement agent, gets one last chance to prove himself and save his career when he's reassigned to a 232-year-old secret government organization.
The Witches Protection Program.
His first assignment: uncover a billion-dollar cosmetics company's diabolical plan to use witchcraft for global domination, while protecting its heiress Morgan Pendragon from her aunt's evil deeds. Reluctantly paired with veteran witch protector, Alastair Verne, Wes must learn to believe in witches…and believe in himself.
Filled with adventure and suspense, Michael Okon creates a rousing, tongue-in-cheek alternate reality where witches cast spells and wreak havoc in modern-day New York City.
Ages 18+ | Publisher: WordFire Press | June 3, 2019 | ISBN-13: 978-1614759942
PURCHASE LINKS