World of Work: Arts and Communication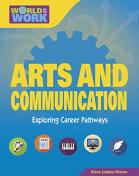 World of Work: Arts and Communication
Arts and Communication in the World of Work series provides an age-appropriate and interactive introduction to the nationally recognized Arts, A/V Technology, and Communication career pathway, using informal self-assessment elements, career profiles, informative sidebar features, and back matter activities.
Did you know that early career exploration is more than exposing students to career options? According to the Association for Career and Technical Education, it adds purpose to learning, supports self-awareness during critical formation years, and capitalizes on developing abilities to think abstractly, solve problems, and work in teams. Experts have even discovered it to be a very effective dropout prevention strategy.
The World of Work series introduces readers to nationally recognized career pathways, using age-appropriate language, high-energy graphics, and 21st-century skill-building activities. This series of books keeps the momentum going by providing student-friendly tools to encourage ongoing career exploration.
World of Work was the official series of the 2019 Take Our Daughters and Sons to Work Day celebration and includes all 16 nationally recognized career clusters: Architecture and Construction; Arts and Communication; Business and Administration; Education and Training; Finance; Food and Natural Resources; Government; Health Sciences; Hospitality and Tourism; Human Services; Information Technology; Law and Public Safety; Manufacturing; Marketing, Sales, and Service; STEM; and Transportation.
Book Details
Genre:
Educational
Nonfiction
Series