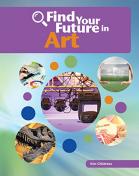 Find Your Future in Art introduces eight high-interest art and design careers via reader-friendly profiles and sidebar features that inspire extended learning, online research, and critical thinking skills. Back matter includes additional learning activites. When it comes to bright futures, STEAM is where it's at. Think STEM plus Art! Schools everywhere are infusing curricula with STEAM education, paving the way for a future economy where creativity and innovation rule.
The Find Your Future series engages elementary and middle-school readers in a Common Core-friendly exploration of the cool things you can do with a knowledge of science, technology, engineering, art, and mathematics. The five-book series offers up plenty of ideas to inspire a new generation of leaders to Find Your Future in Science, Find Your Future in Technology, Find Your Future in Engineering, Find Your Future in Art, and Find Your Future in Mathematics.
Find Your Future is a featured series of the 2020 Take Our Daughters and Sons to Work Day celebration!
Book Details
Genre:
Educational
Inspirational
Nonfiction
Series