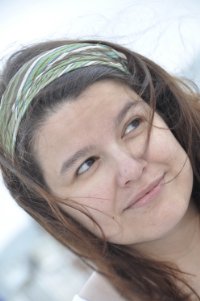 From Amazon.com
Vicki Keire grew up in a 19th Century haunted house in the Deep South full of books, secret rooms, abandoned coal chutes, and plenty of places to get into trouble with her siblings. She holds Bachelor's and Master's degrees in English Literature, and is A.B.D. with specializations in Eighteenth Century British Literature, Romanticism, and Postcolonial Theory. She spent the last decade teaching writing and literature at the university level while slipping paranormal fiction in between the pages of her textbooks.
When not reading and writing about all things paranormal, she indulges in her eclectic musical tastes, enjoys other people's cooking, keeps vampire hours, and adds to her massive stockpile of quirky t-shirts and designer notebooks. She'd rather burn the laundry than fold it. She believes that when an author wins the Newberry, he or she gets a secret lifetime pass to Neverland. She is fond of odd jewelry, bottle trees, and lost causes. She still lives in the Deep South with her husband, two children, and pets, but is pretty sure her house isn't haunted. A person can't be so lucky twice.
Gifts of the Blood and Darkness in the Blood are both set in the mythical town of Whitfield, where she has several other paranormal series planned. Whitfield is a compilation of all she loves about her upbringing with a sprinkling of the things she doesn't. Even though she created it and the people who live there, it still has the power to surprise her. She hopes you enjoy it as much as she does. Please drop by her website, www.vickikeire.com or connect with her online. She loves hearing from readers.
Website, blog, social media links: