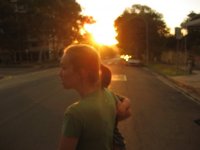 From Amazon.com:
My name is Summer. I'm a mum, and I love writing stories.
My childhood was an adventure. My dad was in the Merchant Navy and travelled the world. Tired of being apart from him, my mum decided we should join him on the high seas. We were taken by pirates, locked in jail and survived many storms. These adventures fuelled my imagination throughout my childhood. I was always writing stories. Through my youth and into adulthood I continued on the creative path. I studied Photography and Art History at the University of Auckland, gaining a Bachelor of Fine Arts and a Bachelor of Arts with honours.
I love working with children and helping them use their imaginations for learning. I worked for a number of years at the Auckland Art Gallery in the Education department. My role was to teach children how to read art, open their minds to different techniques and methods of expression and understand the great history behind the works. This experience has been influential on my approach to writing.
It wasn't until I became a mum that I seriously thought about a career as an author. I want my kids to read my works, which hopefully bestow an example of goodness and also act as an extension of me to retain forever.
Website, blog, social media links: