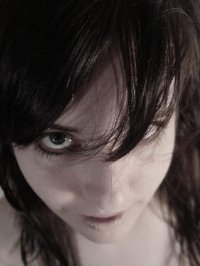 From Amazon.com
Stephanie Void writes fantasy and science fiction.
She spent most of her childhood indoors reading, since going outside meant the sun might kill her. Some of her favorite authors are Edgar Rice Burroughs, J.R.R. Tolkien, Robert Jordan, Patrick O'Brian, and Madeleine L'Engle. All this reading made her want to write stories herself, so she did.
When she isn't writing, she might be doing one of these other things: oil painting, graphic design, photography, singing, perfecting her Gollum voice for everyone's amusement, or enjoying nature.
Sometimes she mangles some songs with a string instrument and calls it violin playing.
Once somebody thought it was a good idea to give her a black belt and a teaching license in Shindoryu Aikijutsu.
She's from New Orleans, Louisiana but moved up to Boston to eat snow.
Her Books:
Running from Secrets
Halfway (Wizards and Faeries Book 1)
Wanderer's Shadow (Wizards and Faeries Book 2)
The Blue (coming Fall 2012)
Her Short Stories:
"Music of the Spheres"
"Formula for a Galactic Conquest"
Website, blog, social media links: