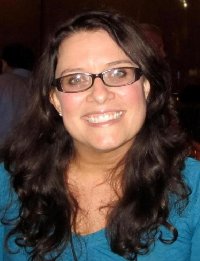 From Amazon.com:
S.R. Johannes is the author of award-winning and Amazon bestselling Untraceable (a teen wilderness thriller) and new tween paranormal, On The Bright Side. She has also published short novelettes as well as a teen romance anthology with 16 other authors titled, In His Eyes. Uncontrollable, the sequel to Untraceable, is scheduled for September 2012.
S.R. Johannes is a winner of the 2012 IndieReader Discovery Awards (Young Adult category) and was also recently nominated for as Georgia Author of the Year (Young Adult category) and semifinalist in The Kindle Book Review's Best Young Adult of 2012
After earning an MBA and working in corporate America doing marketing for over 15 years, S.R. Johannes traded in her expensive suits, high heels, and corporate lingo for a family, flip-flops, and her love of writing. She lives in Atlanta, Georgia with her dog, English-accented husband, and the huge imaginations of their little prince and princess, which she hopes- someday- will change the world.
Blah blah blah - BORING!
In a nutshell - I love sunsets, rainbows, butterflies, and puppies. Oh yeah and zombies.
INTERVIEW WITH S.R. JOHANNES
How did you get started writing?
When my daughter was born, I had 5 months off of my corporate job for maternity leave. I started writing while she was sleeping.
Who influenced you?
I've always written. For work and for pleasure.
Do you have a favorite book/subject/character/setting?
John Steinbeck's Travel with Charley is my favorite Nonfiction, and Pippy Longstocking was my favorite series when I was a kid.
What advice do you have for someone who wants to be an author?
It takes perseverance. The odds are NOT in your favor :) So you have to love it and keep at it, knowing it may take a long time to get published or noticed.
Where is your favorite place to write?
My office. Boring, but it's where I get most done.
What else would you like to tell us?
I used to read thrillers growing up. I would sneak my mom's books and read them late at night so I could put them back in the mornings. Those thrillers are what made me want to write classic contemporary thrillers.
Website, blog, social media links: