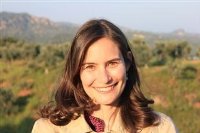 From Amazon.com:
Born and raised in Atlanta, Georgia, Saskia E. Akyil, like many writers over the age of 25, began her art by keeping a journal and writing letters to her friends, pen-pals, cousins, and grandparents.
After receiving a B.A. in International Studies from Emory University and an M.A. in Teaching English as a Second Language (ESL) from the University of Minnesota, her writing took on a more formal tone as she wrote articles for academic publications.
Saskia gained incredibly diverse experiences while simultaneously working three jobs in Olympia, Washington; as a community college ESL professor for immigrants, as a state program administrator for displaced homemakers, and as a Spanish-language medical interpreter. She has also taught numerous cooking classes in the United States and in Germany.
As a hobby, Saskia collects languages, and has studied French, Spanish, Italian, Japanese, Turkish, and German. She left her jobs behind in 2005 when she moved to Munich, Germany with her husband and proceeded to have two sons, who inspire and exhaust her, and never cease to make her laugh.
Website, blog, social media links: