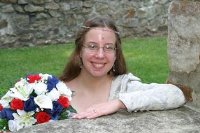 From Amazon.com:
Nicole Zoltack writes fantasy/paranormal, romances, horror, historical; for adults, YA, MG, and PB; novels, short stories, and flash pieces. She's also an editor for MuseItUp Publishing and eTreasures Publishing, and a freelance editor for Passionate Writer Publishing.
When she isn't writing about girls wanting to be knights, talking unicorns, and zombies, she spends time with her loving family. She loves to ride horses (pretending they're unicorns, of course!) and going to the Pennsylvania Renaissance Faire, dressed in period garb.
To learn more about Nicole and her work, visit her website at www.NicoleZoltack.com or her blog at http://NicoleZoltack.blogspot.com.
Website, blog, social media links: