Melissa Pearl was born in Auckland, New Zealand, but has spent much of her life abroad, living in countries such as Jordan, Cyprus and Pakistan... not to mention a nine month road trip around North America with her husband. She is now back in NZ and lives with her husband and two sons. She is a trained elementary teacher, but writing is her passion. Since becoming a full time mother she has had the opportunity to pursue this dream and her debut novel hit the internet in November, 2011. She loves learning about the craft of writing and endeavours to make each new book better than the last.
From Amazon.com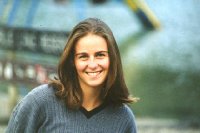 SIX MINUTES WITH MELISSA PEARL:
Today, joining LitPick from China is Melissa Pearl. Melissa is an author, wife, stay-at-home-mom, and trained elementary school teacher. Melissa was born in New Zealand, where she and her family will be returning next year. A world traveler, she has lived in Jordan, Cyprus, and Pakistan, and spent nine months with her husband on a road trip around North America.
Melissa's first novel hit the internet in November 2011. She has been quite busy writing since that time. Her books include the Time Spirit trilogy, Mica & Lexy series, The Space Between Heartbeats series (make sure to read past the end of the interview for more information about this series), Elements trilogy, Masks series, Fugitive series and Songbird novels.
How did you get started writing?
All my life I've been making up stories in my head. I didn't use to tell anybody about them until I met a kindred spirit in my early twenties. She encouraged me to write one of my ideas down so that she could read it as a book. I decided to take her up on the challenge, and I fell in love with writing. It was like a lightbulb lit up inside my head and I'd finally discovered what I was meant to be doing with my life.
I will be forever grateful to my best friend for encouraging me to pursue this.
Who influenced you?
My best friend has been a huge influence. She's always so encouraging.
My brother was also a big influence. He's always loved reading and writing and again, was a huge encouragement to me.
Authors that I have looked up to and admired over the years are Francine Rivers, Dee Henderson, Jodi Picoult, Nora Roberts, Cambria Hebert, Anna Cruise, Stephen King, Chris Vogler and Robert McKee (a screenwriter).
Do you have a favorite book/subject/character/setting?
I have so many. It's really hard to pick just one! I like writing and reading in a variety of genres. They all have to be romantic of course. I love light contemporary romance novels, a little urban fantasy…but my favorite genre would have to be romantic suspense. I love the combination of romance and danger. I am looking forward to writing more books like this in my future :)
What advice do you have for someone who wants to be an author?
Make sure you learn the craft of writing. Take the time to study how to write well. By that I mean, learning the intricacies of how to structure an interesting story, how to write enticing prose that will suck the reader in. There is so much that goes into writing a good book, so much I was unaware of when I first started. It's definitely worth doing a course or reading books on the craft of writing. I can't recommend that highly enough :)
Where is your favorite place to write?
I like my office because it's light and open. I face a wall that is covered with pictures of my characters (I find models and actors that look like them). I also have quotes and poems on the wall that I find inspiring, plus pictures of my family. I like looking up at my wall - it's very motivating.
What else would you like to tell us?
Writing is the best job ever. It's hard and you don't necessarily make a killing, but man, it is SO MUCH FUN. I absolutely love creating these characters and diving into a new world with them. I love walking the journey with them - laughing, crying, falling in love. It's thrilling and emotional and I can't get enough of it :D
Melissa, thank you for spending six minutes with us from your home in China! You are a very busy author! We look forward to your next book and hearing from you again when you are back in New Zealand!
NEW RELEASE NEWS! E-books available for only $0.99 each for a limited time: Two novellas to accompany #TheSpaceBetweenHeartbeats. Find out Dale's story before he met Nicole, in the prequel novella #TheSpaceBefore: http://amzn.to/1GIlhkM
Continue their journey in the sequel #TheSpaceBeyond: http://amzn.to/1OEBgXN
Website, blog, social media links: