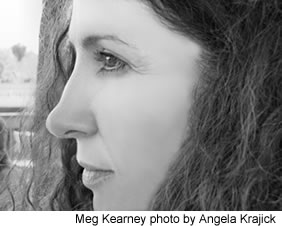 From Meg's website:
Meg is Founding Director of the Solstice Low-Residency Master of Fine Arts in Creative Writing Program at Pine Manor College in Chestnut Hill, Massachusetts. For eleven years prior to joining Pine Manor, she was Associate Director of the National Book Foundation (sponsor of the National Book Awards) in New York City. She also taught poetry at the New School University. Early in her career, she organized educational programs and conducted power plant tours for a gas & electric company in upstate New York.
She is the recipient of an Individual Artist's Fellowship from the New Hampshire Council on the Arts (2010-2011), and was a fellow at the Virginia Center for the Creative Arts in three times. Recipient of 2001 Artist's Fellowship from the New York Foundation for the Arts, Meg also received a New York Times Fellowship and the Alice M. Sellers Academy of American Poets Award in 1998; the Geraldine Griffin Moore Award in Creative Writing from The City College of New York in 1997; and the Frances B. DeNagy Poetry Award from Marist College in 1985. She is a former poetry editor of Echoes, a quarterly literary journal, and past president of the Hudson Valley Writers Association of upstate New York.
A native New Yorker, Meg currently resides in New Hampshire with her three-legged black Lab, Trooper.
Website, blog, social media links: