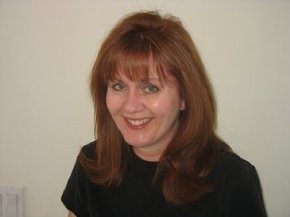 From Amazon.com:
Kim Baccellia has always been a sucker for the paranormal. She blames it on her families' love for such things such as having picnics at cemeteries, visiting psychics, and reading her mother's copies of the daily horoscope. She even had her own horoscope column in middle school, which was a big hit! Kim's other works include the poem, "My Father", which appears in the anthology Mind Mutations, published by The Sun Rising Press. Her essay about the adoption of her son, Finally, Our Turn, appeared in Adoptive Families magazine. Her YA multicultural fantasy, Earrings of Ixtumea, is published by Virtual Tales and available now at Amazon. A member of SCBWI, Kim is currently writing the sequel to CROSSED OUT. She's also putting the finishing touches on an upper MG fantasy No Goddesses Allowed. She lives in Southern California with her husband and son.
SIX MINUTES WITH KIM BACCELLIA:
Joining LitPick for Six Minutes with an Author is Kim Baccellia. She loves the paranormal and has a background in teaching. Kim is the author of books such as No More Goddesses and Goddesses Can Wait.
***How did you get started writing?
My fifth teacher, Mrs. Clements, encouraged my writing with positive suggestions. I also wrote tons of poetry in high school. I was able to put down how I was felt without the fear of being judged. I would write my thoughts in notebooks that I carried with me. I also wrote lots of fanfiction based on my favorite TV series.

***Who influenced you?
When I was a bilingual teacher, there was a resource teacher at my school who wrote romances. She'd share her experiences and journey with all of us in the teacher's lounge. My favorite subject in my own classroom had to be writer's workshop, where I had my first grade students write and publish their own books in Spanish and English. Later, I figured, why don't I take my own advice I gave my students: follow your dream.

***Do you have a favorite book/subject/character/setting?
My all-time favorite book still has to be ISLAND OF THE BLUE DOLPHINS. I go through periods where I love any books on one topic. I'll devour all of them and go back for more! Right now I love historicals set in Europe. I love fantasies, Sci-Fi, edgy contemporary stories, and romances. I'm a huge fan of diversity in books that reflect my Mexican heritage. I'm a big fan of stories with Latina protagonists.
***What advice do you have for someone who wants to be an author?
Read. I think it's so important to read lots of books. This includes graphic novels, comic books, non-fiction, or any other kind of book you love. It doesn't have to be one of those books on the dreaded summer reading list. **Confession, I didn't start really loving the classics until college, and it was books I found without being forced to read.
Read what you love! I don't get it when someone says they want to be a writer but hate to read. To me that's an oxymoron.
Also, don't let anyone tell you that you can't be a writer. If it's your passion, follow it.
***Where is your favorite place to write?
Coffee House & Tea Leaf where I can write and drink one of their yummy iced tea lattes. My current favorite is their iced strawberry cream green tea with NSA chocolate powder.

***What else would you like to tell us?
Thank you so much for having me here! If you love Greek mythology and Paris, make sure to check out GODDESSES CAN WAIT.
---------
Kim, thanks for joining us and sharing more about what has inspired you as a writer. We love that your first grade students gave you the motivation to step out and write your own books.
Website, blog, social media links: