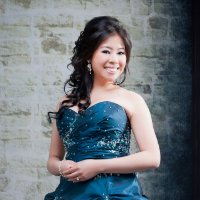 From Amazon.com:
Kat Lieu has sold over 23,540 ebook copies (and counting) of her young adult novel, MAID for ME on Amazon in the US, UK, and Germany.
Kat has sold over 110 paperback copies of her first novel. Kat's most current publication is MY CUP of TEA, a novel continuation of her award-winning short story, THE BIKE RIDE. She is currently writing a young-adult paranormal novel about Jenna Moonlight, one of Kat's most famous characters.
All together, Kat has sold over 44,000 and counting ebooks on Amazon.com under her name and her pen name.
Kat is also a Doctor of Physical Therapy and a Certified Lymphedema Therapist. She also runs a tween/teen empire, Nummyz Productions, bossing around her sister, the amazing Graphics Designer Eve Lieu, their Programmer Kyo, and Kat's web designer/fiancé Jake. Nummyz Productions creates original Flash games for girls and provides them with a safe community, love advice, free stories, and support. Nummyz Productions publishes books and ebooks. Kat's company has also created websites for celebrities of The Young and the Restless (Kate Linder) and Flash games for multi-million dollar company LittleMissMatched.
Contact Kat at http://www.nummyz.com or businessgurl at gmail dot com. http://twitter.com/katlieu is her official twitter account.
Website, blog, social media links: