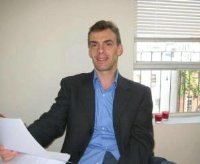 From Amazon.com:
John Michael Cummings' short stories have appeared in more than seventy-five literary journals, including North American Review, The Chattahoochee Review, The Kenyon Review, and The Iowa Review. Twice he has been nominated for The Pushcart Prize. His short story "The Scratchboard Project" received an honorable mention in The Best American Short Stories 2007.
His debut novel, The Night I Freed John Brown (Penguin Group), was the 2009 winner of The Paterson Prize for Books for Young People (Grades 7-12) and one of ten books recommended by USA TODAY for Black History Month. Rave reviews appeared in Kirkus Reviews, The Boston Globe, The Buffalo News, and BookPage, along with five award-winning literary magazines, including Mid-American Review, Black Warrior Review, and The Texas Review. Blurbs included Newbery Honor Recipient Ruth White, North Carolina Poet Laureate Fred Chappell, and Pushcart Prize winner R.T. Smith.
His short story collection, Ugly To Start With, will be published in October of 2011 by West Virginia University Press.
A native of Harpers Ferry, West Virginia, Mr. Cummings has worked as a reporter, editor, teacher, and tutor, most recently at Seminole State College and Lake-Sumter Community College in central Florida.