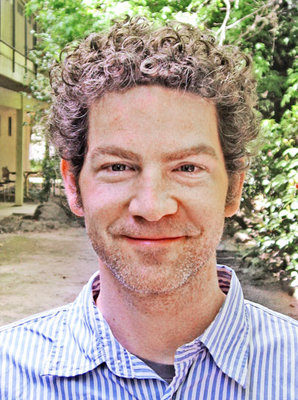 http://www.pressbanner.com/view/full_story/13340336/article-Boulder-Creek-author-pens-global-warming-fiction
From Jacob's website:
Jacob Sackin grew up in Columbia, Missouri and Kansas City. After graduating with a B.A. in English from the University of Kansas, he spent a year volunteering in McLeod Ganj, India, the home of the Tibetan government in exile. There he volunteered at Yong Ling Adult English School and worked as editor for the local paper, Contact.
Upon his return to the U.S., Jacob moved to California, where he worked as a naturalist for more than three years at Foothill Horizons, San Joaquin Outdoor School and Exploring New Horizons. Before attending graduate school in Flagstaff, Arizona at Northern Arizona Univeristy, Jacob spent seven months in South America, where he volunteered at Inti Wara Yassi Animal Refuge in Villa Tunari, Bolivia and at an organic farm in Patagonia, Chile. While earning a Master's degree in English with an emphasis in Creative Writing, at NAU, Jacob also taught English classes and worked at Willow Bend Environmental Education Center.
Jacob then moved to Eugene, Oregon where he taught English, guitar and field science at Northwest Youth Corps Outdoor High School. He is now the director of Sempervirens Outdoor School in Boulder Creek, California.
Website, blog, social media links: