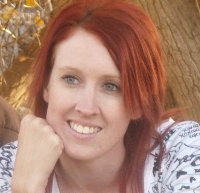 From Amazon.com:
I write fantasy for teens and adults. I'm an avid reader and enjoy authors such as Amelia Atwater-Rhodes, PC & Kristin Cast, Richelle Mead, LJ Smith, Suzanne Collins, Derek Landy, Obert Skye, and Brandon Mull to name a few. I absolutely love vampires but I enjoy fantasy of all kinds.
I'm addicted to Oreos and White Knight drinks from Perks. When I'm not writing I enjoy traveling, playing board and card games, killing zombies on the Xbox 360 with my hubby, listening to music, playing guitar, going to concerts, and spending time with friends and family.
My favorite color is green and the uglier the shade, the better. I get bored of my hairstyle easily which has resulted in me having many colors of hair in the last ten years. My hair is currently red, but who knows how long that might last.
I live in Southern Utah with my husband and son. I'm currently hard at work writing the third installment in the Blood And Guitar series, Fangs And Fame, which I plan to release summer of 2013.
Website, blog, social media links: