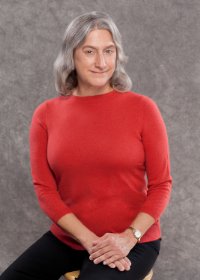 From Amazon.com:
Donna grew up in upstate New York. She loves to read history and historical fiction. When she isn't writing teen historical fiction, she is a teacher, lawyer, and mother of four. She lives in Massachusetts.
SIX MINUTES WITH DONNA TESIERO:
Author Donna Tesiero joins LitPick for Six Minutes with an Author! Donna is the author of the young adult historical fiction novel, The Choosing Time. When Donna isn't busy writing, she is a teacher, lawyer, and mother of four living in Massachusetts.
How did you get started writing?
I have always loved to read both history and historical fiction. After becoming a mother and a teacher, I started to think about entertaining ways to acquaint teens with important moments in history that influence who we are today.
Who influenced you?
As a young reader, I enjoyed Mary Stewart and Jean Plaidy. More recently, I have been impressed with Karen Cushman and Laurie Halse Anderson.
Do you have a favorite book/subject/character/setting?
I enjoy books in which the protagonist has to use his or her intelligence and courage to decide what is right and to act on it.
What advice do you have for someone who wants to be an author?
If you are interested in writing historical fiction, think about some moment in history that you believe has been particularly important to an aspect of the human race's development that you care about. Then ask yourself what challenges a person in that time would face, and how such a person might resolve those challenges. Finally, research your topic thoroughly so you are confident that your story makes historical sense.
Where is your favorite place to write?
In good weather, I enjoy writing on my backyard deck.
What else would you like to tell us?
I read and write about history because it's the story of who we were and why we became who we are now. Since it tells us so much about human character, it also helps us understand our choices for the future. If you want to understand the development of the human spirit, read history.
Donna, thank you for spending six minutes with LitPick. You've given great advice to writers of historical fiction!
Website, blog, social media links: