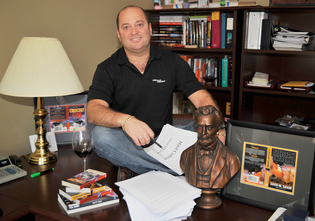 From Amazon.com:
David M. Salkin has written a dozen novels, four of which are already released. His broad range of genres all share one common thread... they are Thrillers that will keep you turning pages!

FOREVER HUNGER hit the Kindle shelf on January 10, 2012 and is now available in paperback. Early reviews have been smokin' hot! For fans of crime thrillers, horror, vampires, and urban fantasies, this is one you won't want to miss! It reads like a crime story...except the killer has been dead for a few hundred years...

Crescent Fire and Necessary Extremes were both published by Penguin Books (Berkley) and The MOP is being re-released this late spring.

All books are now available as AUDIO BOOKS!

David has completed a dozen manuscripts, which means there's always more on the way!

Be sure to visit www.davidmsalkin.com !
Website, blog, social media links: